Plumbers install and repair water pipes, sewage systems, and drainage. They also work on heating and air conditioning systems. They use various tools and equipment to complete their tasks, such as plungers and plumbing snakes. They also solder together pipes and fittings.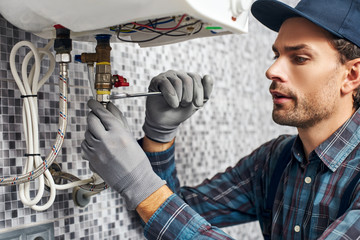 Plumbers are responsible for installing, repairing, and maintaining various plumbing systems in homes and buildings. They may also work on industrial and commercial plumbing systems like sewage and water pipes. Most plumbers receive their training through an apprenticeship program. These programs combine classroom instruction with paid on-the-job training. The training typically lasts four to five years.
The minimum education for a plumber is a high school diploma, although some plumbers attend technical schools to learn skills like welding. They also need experience working in a plumbing-related trade before starting an apprenticeship.
Apprenticeships can be sponsored by a company, labor union or contractor, usually lasting four to five years. During your training, you'll learn about local codes and regulations, blueprint reading, safety standards and other topics.
You'll also need to pass a written test and a practical exam. You'll also need a valid license to work in the United States. The requirements for licensing vary from state to state.
As a plumber, you'll need to have good problem-solving skills and the ability to repair leaks and fix other problems. You'll also need the ability to lift and move heavy pipes or other equipment.
In addition to a college degree, you'll need to take a series of tests and receive certification to be a licensed plumber in the United States. Most states require that you have between two and five years of experience before you can get a license, and they may also ask you to pass a professional exam.
Some plumbers specialize in certain areas, such as mechanical or medical plumbing. These specialized areas can make you more money and offer less competition.
Plumbing is a highly skilled profession that requires years of study and training to become qualified. It also carries risks of infections that could be harmful to your health, so you need to be careful with your work and follow all the proper precautions. It's also important to be aware of how to prevent and respond to leaks and other problems, so you can avoid accidents and injuries.
Plumbers need to obtain a license from the state or local government to provide plumbing services. Depending on the jurisdiction, they may be required to hold an apprentice license, a journeyman license, or a master plumber license.
In most states, licensing requirements are met through training and experience, and through passing a certification exam. These exams test knowledge in key areas, such as piping, venting, and waste scenarios. They also focus on the law, business, and plumbing codes.
Some states require that plumbers receive specialized training from an apprenticeship program, which provides a learn-while-you-earn approach to becoming a professional plumber. These programs usually involve on-the-job and in-school training to teach plumbing skills and prepare apprentices for licensure as a journeyman or master plumber.
After completing an apprenticeship, a licensed plumber must take the journeyman or master plumber license exam to become certified. The exam requires an applicant to demonstrate a thorough understanding of piping and waste systems, as well as the application of the Uniform Plumbing Code.
Applicants for journeyman and master plumber licenses must have a bachelor's degree, two years of construction experience, and pass an exam. Plumbers can work in many settings, including residential, commercial, and industrial buildings. However, they are susceptible to injury because of their work with rough metals, power tools, and pipe-joining equipment. They may stand in awkward positions for long periods of time and are also vulnerable to falls, cuts, sprains, bruises, and fractures.
Plumbers are licensed through a Red Seal examination that is written and scored in accordance with a set of standards. This certification is mandatory and allows for interprovincial mobility.
Some states require that a plumber's license be renewed every two years, while others offer reciprocal recognition between the state and the local municipality. Some states also require a surety bond and insurance.
Plumbers in North Dakota must hold a journeyman or master plumber license to do work in the state. To get a journeyman plumber license, you must show proof of at least two years of experience as a trainee plumber under the supervision of a master plumber. Or, you must have four years of experience as a journeyman plumber and two years of work under the supervision of a master plumber, and pass an exam.
Plumbers assemble, install, and repair pipes, fittings and fixtures associated with heating, water distribution, and sanitation systems in residential and commercial structures. They also repair and maintain domestic appliances, including sinks, toilets, and washing machines.
Work duties vary depending on the nature of a project. Some plumbers remodel buildings, adding new plumbing fixtures and installing fire sprinklers; others replace pipes or manage sewage systems. They can also be called in to deal with emergencies and respond to plumbing problems that arise during the course of business or construction activities.
Job duties include studying blueprints, schematic diagrams and plans to determine work aids required; preparing and installing pipe; reading and working from specifications and plumbing codes; assembling, cutting and installing piping; performing a variety of plumbing repair and maintenance tasks; and using specialized tools and testing instruments. Other duties may involve modifying or repairing existing high-pressure piping systems and equipment, such as steam heating, boilers, condensate and vacuum pumps, circulating and submersible pumps, radiators, and building ventilation systems.
Uses power tools, handtools, and specialized welding and soldering equipment to cut and bend piping. Marks positions and routes for pipes, using ruler, spirit level, plumb bob, and circular saw; cuts openings in walls or floors to accommodate pipes and pipe connections, using handtools and power tools.
Operates and tests a variety of pipe-cutting and threading equipment; measures, cuts, bends, and reams piping; and performs welding or soldering on piping to join a pipe and fittings. Reads and interprets blueprints, schematic diagrams, and plans; estimates materials and costs; and records actions.
Tests a variety of plumbing and piping systems to detect leaks or malfunctions. Describes cause and location of leaks to clients; removes obstructions from drains; snakes out pipes and fixtures; replaces washers on leaky faucets; checks fall pressure with gauges; and performs other inspection or repair tasks as necessary.
Work duties often require strength, balance and flexibility; may involve bending or twisting; and can be carried out at heights of up to 90 pounds. Some plumbers need to put on a self-contained breathing apparatus to handle hazardous chemicals or gas.
Plumbers are a crucial part of our homes, whether you need to fix your plumbing for an emergency or install new fixtures. They earn a decent salary depending on how much time they spend on each job.
This profession is a good fit for people who like to work with their hands and have excellent problem-solving skills. It also offers plenty of career advancement options.
A professional plumber is a person who specializes in installing and maintaining water supply, sewage, and drainage systems. Their duties include repairing leaky pipes, clearing slow drains, and reducing calcium buildup in the water supply.
They also install toilets, sinks, and tubs, as well as water heaters. This career requires knowledge of blueprints and building specifications, which they use to plan and construct piping systems for residential and commercial properties.
As a plumber, you can choose to work as an independent contractor or for an employer. Regardless of your choice, you need to have a valid license in order to perform plumbing work legally. You must meet safety standards and follow local and federal regulations.
Plumbers also need to be physically fit and have strong problem-solving and organizational skills. They often work long hours and may be required to be available on weekends and holidays.
If you're interested in this career, consider gaining experience through on-the-job training and apprenticeships. These are great ways to learn the trade without having to pay expensive tuition fees.
In addition, you can learn a lot about the industry through online forums and social media. This allows you to get advice from other plumbers and make connections that can help you advance in your career.
You can also get involved in community outreach, such as educating people about water conservation or helping people who are experiencing plumbing emergencies. This helps you build a reputation as a trustworthy and reliable service provider.
Generally, plumbers can earn around $2,700 per month. This can vary depending on their level of education, experience, industry and project size. Those who have been in the field for a long time can command higher salaries and charge more for their services.