There are several different types of landscapers. Some specialists focus on specific types of landscaping. Some people want to create a landscape that is both practical and aesthetically pleasing. Others want to create a sustainable garden that saves water and creates a habitat for wildlife. Still, others want to have a modern garden or a tropical oasis. And of course, some want to add features such as an outdoor kitchen, fire pit, and swimming pool. Whatever your needs, finding the right landscaper is essential.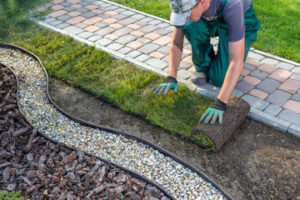 If you're interested in learning more about this career, you're not alone. Landscape professionals are passionate about their work. Whether you're looking to start a business or simply get hired by a landscaping company, there are a variety of options for you. The industry is also highly diverse, offering a wide variety of career opportunities for people with different personalities. You may want to work alone or in a team. If you're good at organizing and leading, you might find yourself working in many different landscape jobs at once.
As an entry-level career, landscaping can be a great option for those who love nature and are interested in the outdoors. Landscaping can be done anywhere, from historic homes and state parks to residential neighborhoods. As a profession, landscaping can be a stepping stone to a career change or a chance to earn extra money while you're still working your day job. However, be sure to consider the seasonality of the job. If you're self-employed, you'll find a greater demand in the warmer months than you'll find in the colder months.
Although the educational requirements for Landscapers are minimal, many employers look for formal education or certification. In general, an apprenticeship program lasts four years and includes four 12-month periods of on-the-job training, followed by four eight-week blocks of technical training and a final certificate exam. Despite the many advantages of an apprenticeship program, it's important to note that landscapers earn a slightly lower hourly rate than other construction workers.
Landscaping is an outdoor job that requires a healthy and relatively fit individual. They may work in suburban or rural areas, and their tasks might include weeding, planting, and installing water features. They also might use chainsaws and other power equipment. However, they must also be able to work safely around these power tools. There are many hazards associated with landscapers' work. They should also be familiar with safety procedures, as many may have a history of the accident.
Most landscaping jobs require no formal education. Landscaping is a great summer job for high school students. However, some employers require a high school diploma. In addition, some roles require certification in safety. In these instances, training is on-the-job. A landscaper's educational background isn't necessary, but it helps. You can also enroll in an associate's degree program or a certification course in landscaping to learn more advanced skills.
Landscaping services can be tax-deductible if you charge the customer sales tax on the materials. Sales tax is not owed on labor, but it is due on materials purchased by landscapers. The materials used in landscaping are subject to sales tax unless the customer is a tax-exempt entity. In many cases, this is the case with materials used in landscaping. This type of taxation can be avoided if the customer's property is not subject to sales tax.
Landscaping professionals should take into account the hard and soft aspects of a yard. While hardscaping isn't as easy as landscaping grass and planting flowers, it's still a necessary component of landscaping. It's important to remember that hardscaping involves planning. You'll want to ensure that the finished product looks as good as possible. Aside from your personal aesthetic preferences, hiring the right company is also essential to your home's safety and value.