Mulching is the process of covering the soil's surface with a material layer. The main purposes of mulching include conserving soil moisture and improving fertility. Mulch can also be used to control weed growth and improve the garden's aesthetic appeal. Listed below are some of the benefits of mulching. Effects on soil health and fertility are several. As mulching materials degrade, they are less effective than compost.
Compost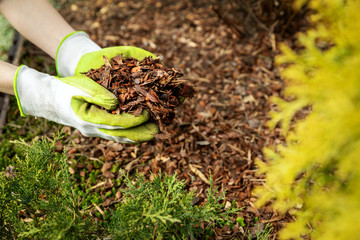 The process of composting is a natural way to improve your garden soil. It adds organic matter, minerals, and nutrients to your soil, which plants need to grow and thrive. Compost is often confused with fertilizer, but the two are different. To use compost as mulch, you'll need to mix it with your soil. Mixing compost is easy with a handheld gardening tool, and you can use it as side-dressing around your plants.
The decomposition of organic material is dependent on the activity of microorganisms. Compost will not decompose properly if it lacks adequate moisture. The moisture encourages the growth of microorganisms, which break down organic material into humus. Watering the pile often is important to keep its decomposition rate steady, but don't overdo it, as too much moisture can cause anaerobic conditions. If the pile becomes too wet, turn it occasionally to restart the decomposition process.
Once finished, compost can be added to soil all year round. It takes about three to twelve months to become a rich compost, depending on the organic matter used. Once it is finished, crumbled soil is a great mulch, and can be added to your garden soil without burning or stinging the plants. Unlike fertilizers, compost is safe for your plants and doesn't harm your soil's pH levels.
Non-Biodegradable Mulches
In most cases, non-biodegradable mulches are not a viable choice for landscape or landscaping applications. Although they do provide some aesthetic benefits, biodegradation has several disadvantages. The buried part of biodegradable mulches does not degrade, while the non-biodegradable portion does. The degradation of non-biodegradable mulches is governed by the polymer's characteristics, which include its molecular weight and mobility.
The main advantages of mulching are its ability to retain moisture and warmth. It also protects plant roots from winter frosts. Moreover, it prevents weed growth. Biodegradable mulches are also biodegradable and are usually composed of bark chippings or other organic materials that decompose naturally. In addition, they do not contain any toxic chemicals and must be replaced with a natural mulch when they have rotted.
Biodegradable mulches for landscaping must withstand several types of atmospheric degradation, including photodegradation caused by ultraviolet exposure. This can affect mulch films in two ways: random main chain scission and Norrish I or Norrish II mechanism. Biodegradable mulches need to be disposed of at the end of the season. For landscaping, biodegradable mulches are a viable alternative to plastic mulches.
Biodegradable mulches have numerous advantages over non-biodegradable mulches. Biodegradable polymers begin their lifecycle as renewable resources and are broken down into specific end products. These end products are eventually used by consumers. Then they need to be disposed of in biowaste collection or composted. In addition to being expensive, biodegradable mulches do not provide weed suppression and soil warming.
Grass Clippings
The 3Rs of sustainability emphasize the importance of recycling and reusing, and using grass clippings for mulching can help you achieve these goals. Recycling means reducing waste and reusing it, and repurposing means recovering something from the waste and redefining its function. Grass clippings can be used as mulch to help your garden retain moisture, suppress weeds, and lower the temperature of the soil. However, grass clippings should be clean and free of any seeds, and should be collected from potted plants.
Grass clippings can be added to raised garden beds for added moisture retention, suppressing weeds, and providing nutrients to plants. Spreading grass clippings a few inches over your bed will help reduce the layer of mulch. Grass clippings are also great for compost bins or piles since they contain a large amount of nitrogen and carbon, which break down rapidly when mixed with carbon-rich materials.
Grass clippings are often suitable for composting. Mix them with other yard waste to accelerate the decomposition process. This method helps reduce odors and can save 25% of the fertilizer that would otherwise be used in lawn care. Also, grass clippings break down more quickly than garden waste. If you want to make compost from grass clippings, use the mulching mode on your lawn mower. You can also use the clippings as mulch for your garden.
Buckwheat Hulls
Unlike most garden mulches, buckwheat hulls do not pack down or get water-logged, so they retain moisture and allow the roots of plants to get sufficient oxygen. They also help to suppress weeds by depriving them of sunlight and carbon dioxide. These benefits make buckwheat hulls a good choice for vegetable gardens. You can buy buckwheat hulls in various amounts and spread them on your soil.
The husks can be stored in various containers. It is advisable to store them in plastic bags to prevent mold and moisture damage. However, if you have no container to store them, you can use a simple bucket. You can also use a colander. But make sure that the husks are stored in a dry place to avoid insects. Otherwise, the husks will break down and become useless for pillow stuffing.
Buckwheat husks are used in textile products as filler and soil mulch. They are also widely used in bedding. Their elastic nature allows them to conform to human body shape, regulate body temperature, and are free of dust mites. They are also available in raw form for easy use. And they do not have any smells, so they are great for preventing mold and mildew.
Straw
When applying mulch, the right amount of straw will benefit your garden. If you've ever seen a hayfield, you may have wondered how you can make it look so good. Well, the truth is that hay contains substantial amounts of seeds. Besides, straw is a natural byproduct that provides an excellent source of feed. But what are the best ways to mulch straw? Here are a few tips. Firstly, make sure you don't use too much straw, because it may damage the soil's structure.
Besides looking attractive, straw can also suppress weeds. It will also moderate soil temperature and moisture fluctuations. This will keep plants cooler during the hotter parts of the day and minimize stress. Lastly, it will help keep the soil evenly moist. That's important for plant growth, especially since moist soil is conducive to root health. In addition, the straw will minimize evaporation, which means less water loss from the soil.
One study found that two-spotted spider mites were the only pest present on T1 leaves. Similarly, in the T3 and T2 pots, the presence of these insects was minimal. Nonetheless, they could be observed moving across the straw surface at night. These results are encouraging, and we would consider using this practice for our gardening projects. And while we're talking about mulch, let's not forget the mites that live in it. Several predatory mites can infect plants if they're not protected.
Hay
Many master gardeners swear by hay mulching as a great way to keep the soil moist and improve the appearance of their landscapes. Hay is harvested by harvesters who prefer to cut the hay before it goes to seed so that the nutrients will not be lost in the straw. Although hay contains seeds, high-quality hay will have no or few seeds. It also attracts slugs, snails, and other pests, so be sure to check the label before you purchase your hay.
One study found that hay mulching improved soil moisture content. Under two to nine grams of hay mulch, soil moisture content increased by 5.7 to 9.5%. A 5.6 Mg hay mulch would provide the greatest water conservation. The amount of mulch applied affected soil temperature both positively and negatively. While hay mulching increased soil temperature, it lowered the maximum temperature during the day and raised the minimum temperature at night. However, the magnitude of this effect varied with the amount of mulch applied.
A 20cm layer of hay will help to regulate soil moisture and temperature. If you want to use hay as a mulch, make sure to choose a layer from last year's harvest. In the spring, broadcast fresh bales over your entire garden. While turning the hay isn't ideal, it will make it easier for you to turn the soil and till it. If you have sandy soil, make sure to add some leaf mold and compost to the top layer. The soil will be moister, which will result in a higher yield and less watering.
CATEGORY: Landscaping
TAGS: landscaping services, landscaping guide, landscape designs, landscaping approaches, landscaping techniques